Merit Pump and Equipment Company is your pump supply headquarters for Myers and Aplex pumps. Our experienced Myers pump specialists are ready to assist you for any inquiry. We are also a Myers authorized pump service center for all your pump repair needs.
Do you need Myers pump parts and equipment or help with your Myers pump? Click here to contact us today and we will be in touch shortly.
Established in 1990, Merit Pump and Equipment has an ongoing goal of offering the very best in customer satisfaction for your Myers pump equipment. Our facility in Wooster, Ohio is minutes from the F.E. Myers manufacturing plant in Ashland, Ohio. We have maintained a close, lasting relationship with the factory for many years. As an official Myers pump distributor, this important connection enhances our ability to provide premiere pump repair services.
Our Myers pump repair and equipment specialists are ready to learn your application plans and provide guidance on your ultimate pump selection. Contact us with any inquiry. We are your trusted Myers pump equipment and service center: new pumps & parts, application pump sizing, troubleshooting, full repairs, and more.
---
About Myers Pumps and the F.E. Myers Company
The F.E. Myers Company was established in Ashland Ohio in 1970. The company started by building products for the farming community. They later engineered and manufactured the first double acting hand pump. The company grew through the years and became an industry leader in several markets. In 1996, Myers, now part of the Pentair Ltd., added the Aplex line of pumps. The Aplex pumps dates back to 1960, pump suppliers for the oilfield pump industry.
Myers and Aplex offer an excellent line of reciprocating pumps that can easily compete in many pump markets: oil and gas, directional drilling, sewer cleaning, water treatment, water purification, power generation, steel mills, general industrial and municipal. Myers offers a wide range of pumps including reciprocating triplex and quintuplex, end suction centrifugal pumps, submersible sewage non-clog & grinder pumps systems, dry pit pumps and many others.
---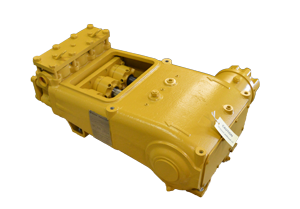 Myers Reciprocating Pumps
Myers offers a full line of reciprocating pumps for many high-pressure applications. The smaller BXM triplex pump offers continuous service pumps up to 8 gpm and pressures as high as 1500 PSI. The CX, CXP, CPM and C series triplex pumps offer 14 sizes as high as 4000 PSI. The D, DP and E series triplex pumps are available in 18 sizes all with internal gear reduction. The newer and larger HPL series triplex pump offers up to 120 gpm and 3000 PSI.
Myers also offers their full line of Aplex pumps. These include the SC-series, MA-series and the RO-series triplex & quintuplex pumps. These pumps are specially designed to fit most applications, an array of construction materials, and exact flow & pressure requirements.
See full pump catalog below:
Myers Reciprocating Pump Brochures
---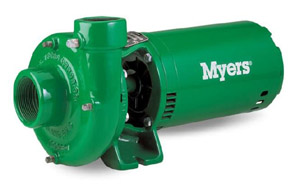 Myers Centrifugal Pumps
Myers centrifugal pump line includes the Centri-Thrift pumps as well as the CT series. The QP-series (Quick Prime) pump for self-priming, and the rugged I2C pump for higher pressure.
---
Myers Submersible Pumps
Myers is well known for their submersible pumps. Whether a sewage pump, effluent pump or sump, Myers offers a wide range of pumps for many situations.
Myers MW-Series Sewage Pump Brochure
Myers WHR Sewage Pump Brochure
---
Your Trusted Myers Pump Equipment and Service Center
Merit Pump and Equipment is a direct Myers distributor and service center with over 28 years of experience. We are always ready to assist any pump repair and equipment need. Contact our Myers pump specialists with any inquiry. Call today at 800-700-8265.